NMHA Player Allocation Policy – House League
This policy can be found in its entirety on the NMHA website under House League Policies.

Players are allocated to teams based on evaluation results during the sort out process. Players will be assigned to teams such that the balancing of the teams in terms of skill shall be the first priority. The process to determine the equal balancing of players on teams will include rating of players' skills by controlled scrimmages and/or on-ice drill stations by a minimum of three independent evaluators. Any player who misses the entire sort out evaluation will automatically be placed at the discretion of the director, and will then be evaluated during the balancing process.

To provide the optimum balance between teams, friend requests will not be considered. Volunteer requests will only be considered under the following circumstances:
The Head Coach's player and the requested volunteer's player both sort to the same level. A player will not be moved either up or down to a level to accommodate this request.
The request can ONLY come from the Head Coach. Requests from volunteers to work with a certain coach will not be considered.
The Head Coach may only request a Manager or Assistant Coach.
The placement of this requested volunteer cannot affect the balancing of the team in any way, either for team building during sort outs, or team balancing once the season has started.
Even if the request is granted by the Director, it is not a guarantee that the player requested is exempt from movement in the interest of balancing teams.
The Division Director will monitor and balance teams up until team picture day when the teams will be finalized.
Team Re-Balancing Policy
This policy can be found in its entirety on the NMHA website under House League Policies.
The NMHA, to the best of our ability is committed to ensuring all teams are balanced and fair within their respective divisions. It is often necessary to rebalance teams several weeks after the season has started when some teams are proven to be far stronger or far weaker than other teams within their division. It also becomes necessary to move players to other division in the event that they have been sorted incorrectly and are not playing in a division to which they are suited. The NMHA reserves the right to move any player to any other team at any time in order to promote team balance, up to the weekend of team photos (often mid-to late- November).
House League Equal Ice Policy
This policy can be found in its entirety on the NMHA website under House League Policies.
Nepean Minor Hockey is committed to the principles of sportsmanship and ensuring all players playing in generally the same position are afforded equal ice time.
The NMHA Equal Ice Policy states that no player will intentionally get more or less ice time than another.
The NMHA believes that all players deserve an equal opportunity to contribute at all times of the game and for equal lengths of time. This includes during power plays, penalty kills, overtime periods, playoffs etc. All coaches are expected to roll the next line, without exception.
A coach may reduce a player's ice time for discipline reasons but only in consultation with the Divisional Director and the VP House League, and only after other means of correction have been attempted. Please see the House League Discipline Policy.
Any coach who is determined to not be following this policy will face disciplinary action that may result in their removal from the team roster.
Affiliated Players
Affiliation Rules as Mandated by Hockey Canada
Hockey Canada has mandated that the 19-player Special Affiliation method is the only acceptable way of documenting affiliations.
Each team is permitted to sign up to 19 players as affiliates, two of which must be goaltenders.
Affiliates may only be used by one (1) team.
Affiliation requests must be coordinated and approved by your Division Director and/or Convenor who will arbitrate any conflicts.
Affiliates MUST appear on your official team roster before they can be used in a game.
The use of an undocumented affiliate in a game will result in the Head Coach being suspended for the use of an ineligible player and the team will be penalized by loss of points in the standings.
No player is permitted to be part of more than one (1) affiliated players list in a particular category at any given time during the season. For example, U13 and U15 are two separate categories. This means that a House U13 B (T3) goalie can affiliate to a U13 House A (T2) team AND a U15 House B (T3) team.
General Affiliation Information
The purpose of affiliation is to allow the higher category team the opportunity to ice the maximum allowable roster for every game.
Affiliate players are the property of the lower category teams on which they have been registered. Each time the higher category team wishes to use a player, they must obtain permission of the Head Coach of the lower category team.
Skaters may affiliate to a maximum of fifteen (15) games with each team. Only regular season and playoff games count towards this total. Tournament and exhibition games do not count.
Goalies have no limit on affiliated games. Sitting as back-up does not count as an affiliated game.
Should a player's affiliation to one team be broken and replaced by another team the game count resets to zero. If a player's rights are returned to a prior affiliating team in the same season, the game count will continue to increment from where it was reset. 
Teams and players will need to keep track of the number of affiliations for a player. Coaches may be advised when a player approaches the limit.
Teams participating in out of Branch tournaments would be well-advised to verify the affiliation regulations of the Branch to which they are travelling. 
For a player to remain eligible to play on another team in the same category they must be released prior to January 10. If released after Jan. 10, they are ineligible to be placed on another team.
February 10 is the final date for player registration. You may affiliate an unaffiliated player prior to that date.
NMHA House League Affiliation Policy
What follows is the NMHA policy for affiliation within House League. This policy does not supersede any reporting requirements for affiliates as mandated by the NMHA.
The NMHA supports affiliation as a means for players to develop their skills by playing for a higher-level team. However, in a recreational league, it is important to balance player development and League parity. The general rules for affiliating players are outlined in Hockey Canada Regulation E and HEO Minor Rules and Regulations, Section 8.0 and Appendix B.
The NMHA policy fits within these rules, but it has been made more restrictive to meet the needs of a large House League organization.
Skaters may affiliate "up" in age or category or in both age and category.

Example: A U13 B (T3) skater can affiliate to a U13 A (T2) team, or may affiliate to a U15 B (T3) or a U15 A (T2) team.

The affiliation of House A (T2) skaters to higher age House B (T3) teams is not permitted.

Example: a U11 A (T2) skater cannot affiliate to a U13 B (T3) team.

The number of skaters used in a game cannot exceed the number of skaters on the official team roster.

Example: a team with 15 skaters on their official roster cannot dress more than 15 skaters including affiliates

Goaltenders are the exception to this policy, with prior approval by the Division Director.
Failure to comply with this policy will result in sanctions against the offending team, up to and including loss of points in the standings and suspension of the Head Coach.
Requesting & Reporting an Affiliate
Requesting an affiliate player to be added to your official team roster:

You must notify your Convenor and Division Director of your intent to add the affiliate to your team's roster. In the case of conflicts, the Director or Convenor will determine to which team the player will be affiliated.
You must contact the coach of the affiliate's team to notify them you are requesting the player be added to your team's official roster as an affiliate.
The Director or Convenor will arrange with the Registrar to add the affiliate to your official roster and a new roster will be issued to the team.
The parents of the affiliated player must be included in the email thread.

Using and affiliate in a game:

Ensure the process above for requesting an affiliate has been completed.
Prior to using the player in the game, you must contact the coach of the affiliate's team to notify them that you are requesting the player. DO NOT make requests directly to the parents or the player until after you have obtained the consent of the affiliate's coach. This is to make the requesting coach aware of any issues or suspensions which may prevent them participating in a game.
Affiliated players must be designated on the official game sheet by the symbol "AP" after their name on the player's line-up roster.
Every affiliation must be communicated to the Division Director, Convenor and affiliations@nepeanminorhockey.ca as follows:

Subject Line: "Affiliation – Team Name – Game Date"
Include:

Player's name
Player or goalie
Registered team
Team affiliating to
Type of game (league, playoff, tournament, exhibition)
Date of game
Player the affiliate is replacing
Reason for player absence.

After the game, the requesting Head Coach must notify the affiliate's regular coaching staff should injuries or suspensions occur.
NMHA House League to NMHA Competitive Team
There remains a requirement to notify and obtain agreement from the affiliate's regular coaching staff each time or your intention to use a player. This ensures suspensions and other issues are known and respected. To this end the following guidelines must be followed:
When there is an event conflict, the following schedule of event priorities should be used
The team with the highest event priority will take precedence.
Where the event priorities are the same, the player's regular team will take precedence.

League or playoff game
Out of town tournament (where roster is depleted)
In-town tournament game
Practice
Exhibition game
Off-ice team event
Similarly, coaches using an affiliated player must notify the affiliate's regular coaching staff should injuries or suspensions occur. Team officials must respect this policy and make no effort to discourage affiliated players from participating with affiliated teams as a result of its implementation.
Team Travel
A Travel Permit must be filled out and signed by the NMHA District Chair, for any trip outside the HEO District. Teams travelling to the USA will require the regular Travel Permit as well as the USA Travel Permit. Below are maps within which a travel permit is not required. Travel permit forms are also available on the HEO website.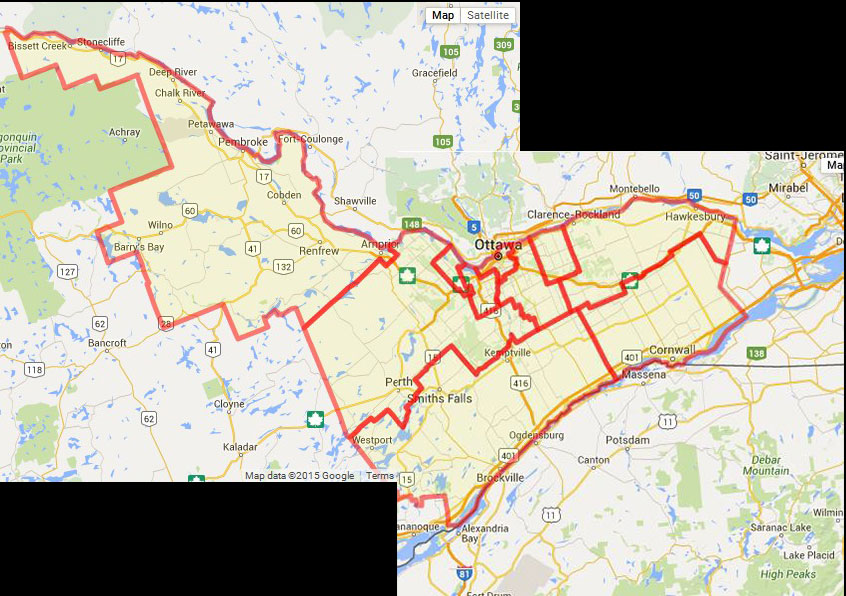 To obtain approval for a team travel permit, fully complete the permit, including the Hockey Canada registration numbers for each player and team official. Hockey Canada numbers can be found on the official team roster.
Send:
The completed permit
US permit if required
The official team roster
to the NMHA District Chair no sooner than two weeks before scheduled travel. Turnaround time is very quick. All players planning to play in the tournament, including any affiliates must be listed on the travel permit, as are any coaching staff members.
Remind families about medical coverage, particularly when travelling to the US. They should be sure the insurance policy covers playing a sport such as hockey.
If you are bringing another player (not your own child) to a tournament outside of the HEO district, it is a good idea to have the player's parent/guardian complete a Permission to Travel Form or similar.
Travel to the United States
Should travel restrictions into the USA via land border crossings continue or remain in question, it is not advised to enter into US tournaments this season. Once such restrictions are lifted, other policies such as COVID-19 testing requirements and vaccination status may adversely impact some of our membership travelling to tournaments in the US. As always, all of our players, team officials and parents must have proper documentation to present at the border.
The NMHA believes that every member should have equal access to all of our programs, including participating in tournaments. If border crossings are open, while we may approve travel permits to the US, we strongly caution all teams to ensure that:
Your parents are fully aware of the situation on travel and any implications; and
If even one of your players or parents is potentially affected, the NMHA requests that your team does not register, or withdraws from the tournament.
Should a team travel to the US and face negative consequences on travel, the NMHA will not be able to provide assistance of any kind.